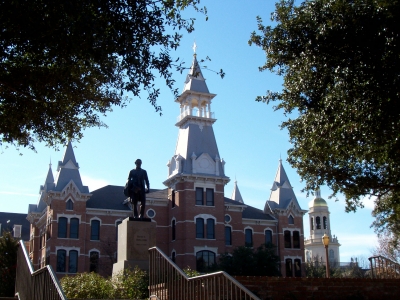 In 2011 we spent a few days at Baylor University in Waco, TX working with the honors college.
Going back to campuses like Baylor's is always a refreshing experience. It takes us back to our youth (which we'd like to think is still somewhat active) with the sites of ultimate frisbee, the sounds of students complaining about schoolwork, and the smells of academia. Most notably of which are the handful of kids who may or may not have showered since the first week of class.
While there we had the fantastic opportunity to both lecture and perform. We also sat down with a select group of students and faculty all interested in exploring where music is going and how we see our work in light of these trends.
After our first full day we sampled some savory Thai food that reminded us – a little at least – of our time in Thailand, and spent the evening talking about art and life with some new friends on a cozy porch in the cool Texas night.
The highlight, though, may have been stopping in to the local coffee shop the next morning only to be recognized by the barista who promptly gave us our beverages on the house. A hearty Northeastern thanks goes out to you friend.
Here's hoping we'll have a chance to make it back down by y'all.